Choose Westridge Buick GMC in Lloydminster for Spectacular Auto Body Work
Situated on-site, the collision center at Westridge Buick GMC is your one-stop-shop for meticulous body work. Our qualified repair technicians restore wrecked and damaged vehicles from bumper-to-bumper. What's more, our collision center is highly experienced with the insurance claims process, and works to ensure Lloydminster customers' claims are handled efficiently. We possess the skill and knowledge to renew your vehicle, and bring it back up to manufacturer standards!
Full-Scale Collision and Cosmetic Repair
Here at Westridge Buick GMC, we strive to provide comprehensive services within our body shop, be it post-collision or cosmetic repair. Whether you need full-scale auto body painting services, or auto glass replacement, our experienced technicians will work committedly to return your vehicle to its original condition. Take a closer look at some of the services available at our state-of-the-art collision center:
Insurance Claims Assistance
Our repair technicians will check your vehicle for surface and hidden damage, and operate alongside your insurance company to move your claim forward.
Glass Replacement and Repair
With our help, a cracked windshield and/or windows are as good as gone.
Custom Body Painting
Our talented paint shop can match your vehicle's color and trim with ease, giving it fresh and vibrant finish.
Cosmetic Services
Revitalize your vehicle's look and feel with our rust removal, rock chip repair, and power polishing services.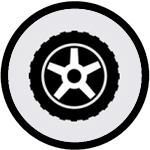 Fleet/Industrial Services
Be it a commercial fleet, or heavy-duty industrial vehicles, our body shop offers collision and cosmetic repairs for any make or model.
Aftermarket Modification
Let us help you create the vehicle of your dreams with head-turning exterior and interior add-ons.
360 Service All Right Here
Get Estimate
We don't just do oil changes. Our team is trained to service all aspects of vehicle maintenance, even body and paint work.
Make an Appointment
The Quick Lube Center at Westridge Buick GMC is open Monday through Saturday, with flexible hours that work with your busy schedule!
Hassle-Free Drop-Off
At Westridge Buick GMC, we offer convenient after-hours drop-off for your vehicle. Contact us today to make arrangements.
Make Your Vehicle Shine at Westridge Buick GMC!
In addition to providing you with a free estimate, our highly trained technicians will help facilitate your claim by working closely with your insurance company. Contact us by phone at 855-829-1813, or complete or our online scheduling form to book an appointment. For added convenience, be sure to ask about our pickup/drop-off service, after-hours drop-off, and rental car service!